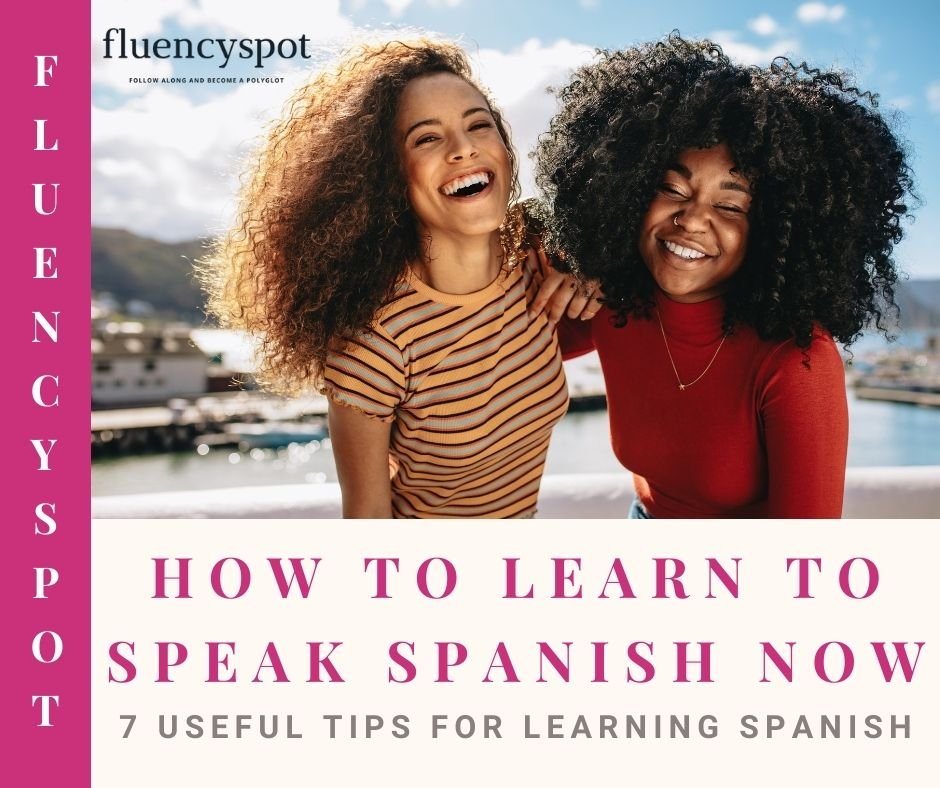 Learn Spanish now with the following tips. It is the most studied and spoken language in the world and it's the official language of 22 countries. So if you are debating internally on whether to learn it or not – my advice is to learn it. Implement the following tips and you'll see results immediately!
For the Step-by-Step plan on how to learn Spanish click here.
Listen
Listening is the key to any language, so you can listen to a radio station, to some podcasts, watch TV Shows or watch the news in Spanish.
Mitele   – watch Spanish TV here.
Learn Spanish with Extra – a show in Spanish that helps to learn the basics.
Podcasts:
Language Treks
YouTube Channels:
For more YouTube Channels check How to learn Spanish vocabulary for free on YouTube.
Take some courses
You can take an offline class or do it online. The following websites introduce you to basic grammar and vocabulary. First, you need to know basic conversation skills and after you cover this part – move to the next tip.
Spanish for beginners. Step-by-step guide

Also, you can get some great courses like:
Learn Spanish Language Software Set
Rosetta Stone Spanish Level 1-5 Set
Learn Spanish: Fluenz Spanish and here you can get all 5 levels.
Download my PDF file (cheatsheet) for more information and useful websites!

Speak with a native speaker
You don't need to be fluent if you want to speak with a native. People love talking to foreigners and they will always help, correct and encourage you. They don't laugh because you used the wrong tense or you don't know the right word. Don't be afraid and just talk! Try to find someone who lives in your city, join Facebook groups and use these websites to find a language partner.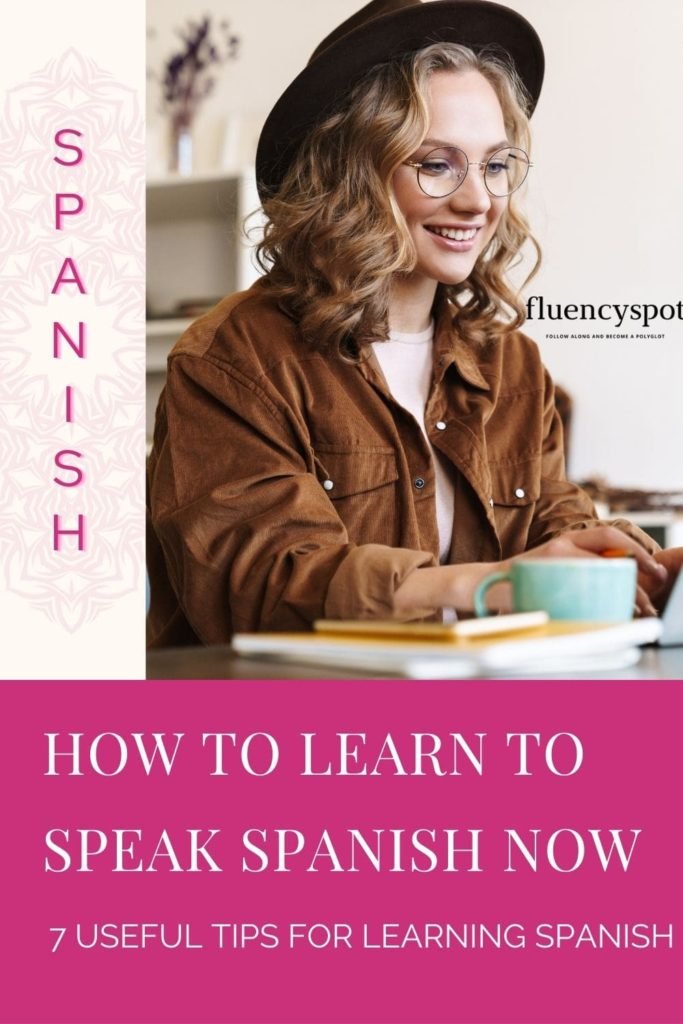 Change the language on your devices
This will help you learn new words and get used to Spanish.
Label everything
Stick notes to objects that surround you. You are going to see them every day and it will help you remember basic vocabulary.
Read in Spanish
If you just started learning Spanish, I recommend reading books for children. They are very simple and fun to read.
A great website for reading and learning Spanish is Lingq.
You don't only have the text, you also have audio and if you don't know a word you can click on it and you'll see the translation.
Listen to music
This is the most fun way to learn a new language, but it's very important to translate the lyrics. It's not enough to just enjoy the music.

Have fun learning Spanish and come back for more useful tips.
Hi there! I'm Ana aka Mizuki Tao – a language lover and founder of the FluencySpot blog. I speak Romanian, Russian, and English. Currently, I'm improving my Spanish, German, and Japanese speaking skills. On FluencySpot I share all the tips and resources that helped me learn these languages faster.