Are you looking for a fast way to learn to speak Spanish? Do you want to learn Spanish but you don't know where to start? Then this step by step guide is for you. In short 7 days you will be able to express yourself in Spanish and everyone will be amazed by the progress you made. Have you ever met anyone that can say they did that?
Why is this method so powerful?
Let me explain how this step by step guide will teach you to speak Spanish is just 7 days. This short course was inspired by two polyglots: Benny Lewis and Dmitri Petrov. You are going to learn the present, past and future tense at the same time and that will allow you to start to speak Spanish from the very beginning.
When you actually speak Spanish, you are more likely to memorize words long term. You don't learn a word or sentence by heart but you understand the meaning and you remember it. That's why Benny Lewis recommends that you speak Spanish from day one.
Almost all courses teach you the past and the future after a few months but we are going to learn them in 7 days. That's crazy, right? Think about this, you can't talk just using the present tense. In order to express yourself in Spanish now, you need to learn the present and the past as soon as possible. Dmitri Petrov teaches all three tenses from the beginning to maximize the outcome.
Who is this for?
Are you ready to step out of your comfort zone and make a massive change in the way people think about your Spanish skills? I used this method to learn Spanish and German. Everyone was impressed by the fast results I achieved. People couldn't believe I was actually speaking Spanish so quickly but it is possible- you just need the right strategy.
This is a course for beginners- levels A1 and A2. If you don't know anything in Spanish or you know some words but you can't actually speak, then this step by step guide is for you. In just 7 days you will be able to speak Spanish but you won't master it in such a short period of time. I carried my notebook with me for a while and I kept looking at a word I put down or the conjugation of the verb. It's impossible to remember all these rules and words in just 7 days, but you will have the sentence temple that you need just to fill in- that's the beauty of this course.
The course structure: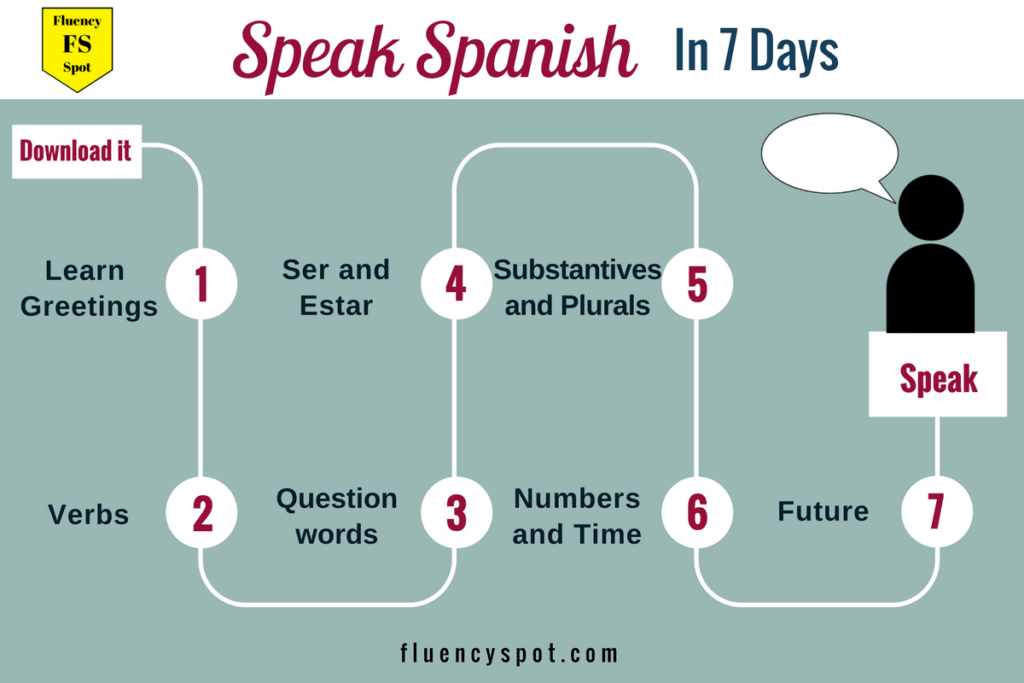 The first day is an introductive one. I included the greetings and reading rules just in case you are an absolute beginner and don't know them. If you already know the Spanish basics do the exercises and move on.
Day two. We are going to learn the verbs, they are the most important words in your sentences.
Day three- question words. You can build plenty of sentences using question words like que, donde, etc. When you learn how to say these types of sentences you gain the confidence and motivation to ask more (to use Spanish more) and learn faster.
Day four- ser and estar. A lot of people find these two words very confusing. We are going to take a look at the usage of these verbs and do some exercises that will help you memorize the grammar rules.
Day five- substantives and plural. The nouns in the Spanish language have gender and number and of course, we need to learn them in order to build grammatically correct sentences.
Day six- numbers and time. Learning the numbers will allow you to ask the time and build many sentences that will give you that momentum you are looking for.
Day seven- future. As I mentioned before, you need all three tenses to speak Spanish. You are going to learn the simplest way to say something in future tense.
The life change
At the end of this course you will be able to have small conversations, talk about yourself, ask for the directions and time, and the most important thing- conjugate the Spanish verbs. You will do all these in simple present, past and future, and this is enough to get you started. You are going to get over this language barrier when you think it's too early to speak because you don't know enough words or you don't know how to say it.
I have to warn you; you won't achieve it without hard work. Put in the effort, follow the steps and you'll be able to have a small conversation in Spanish in just 7 days.
"Don't put in half the effort unless you are ok with half the result"
Save